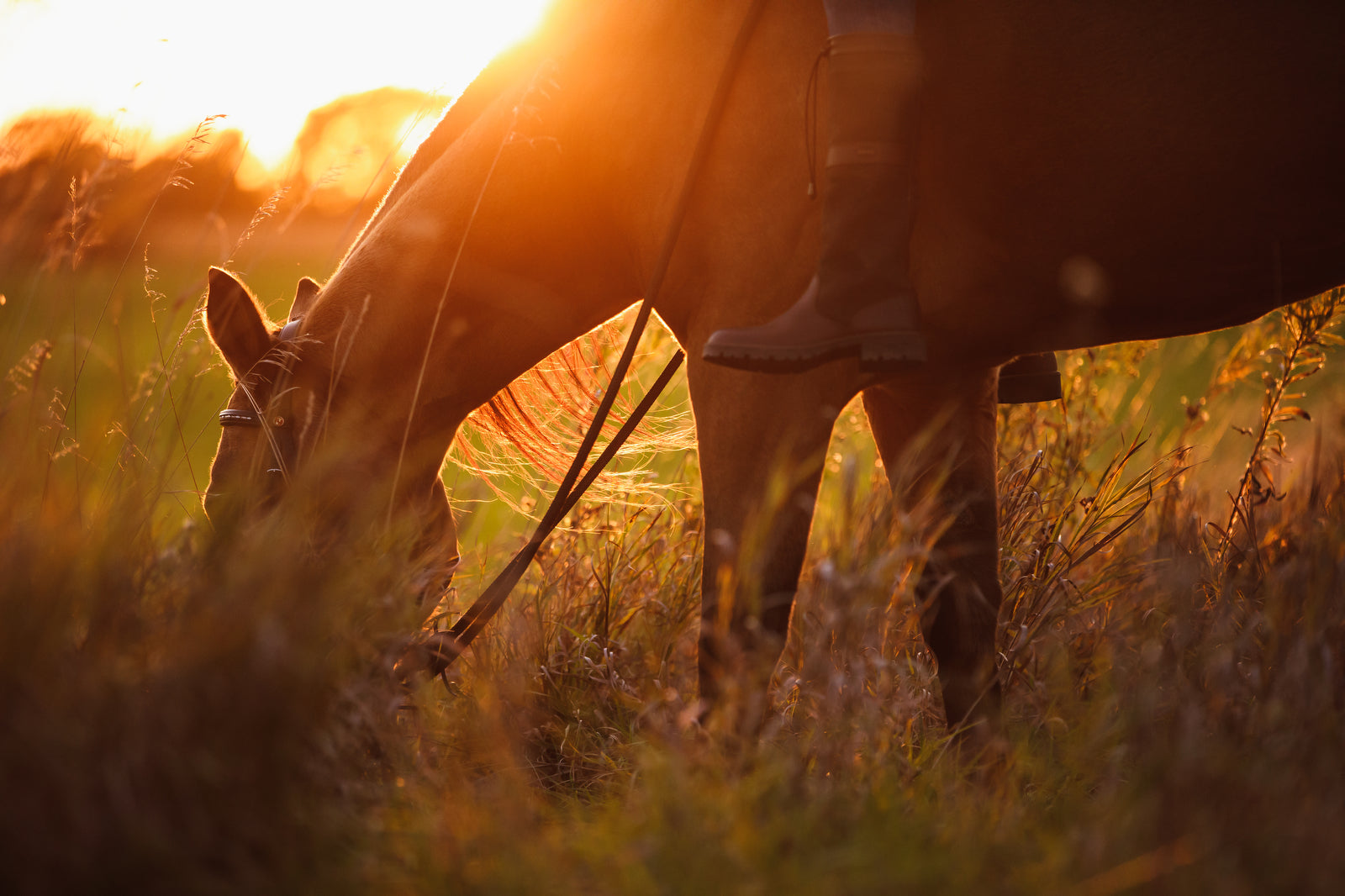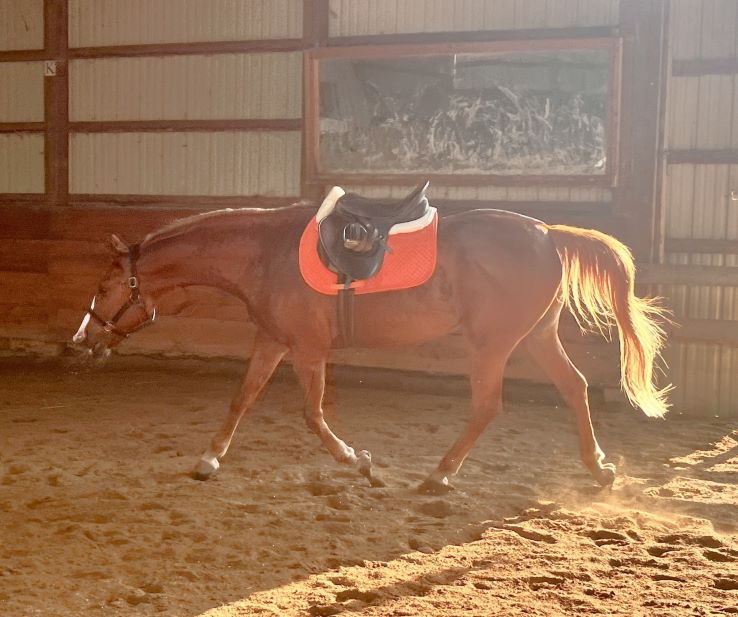 Whoz
I have been using products from this company for over 6 months, and I am so impressed with every product I receive! I love the unique formulas that you don't typically get in average hoof/vitamin/etc supplements. These products are based on the science behind common equine deficiencies and WORK! Not just marketing. I owned an APHA that had chronic thrush, abscessing, and hoof imbalances. I used every topical solution on the market, even tried and true thrush buster but nothing could permanently keep thrush away which was causing abscesses. Only this blend cleared his hooves up. I ended up selling him spring of 2023 but recommended his new owners keep him on the copper & zinc blend and omega-e. My new horse doesn't have hoof issues so I only purchase the omega-e for him, but it is by far the best price and quality out there, not to mention the free, fast shipping! ~ Melinda
Roman
Roman is recovering from laminitis. Top picture is in November, we had been on Vermont blend for 2 weeks after struggling to gain any noticeable sole depth. Bottom picture is the growth we saw after being on Vermont blend for 6 weeks. Our vet and farrier were *extremely* pleased and able to move forward in his treatment plan! We have a long way to go but are so happy to have this product in our line up! 
Lots of love and gratefulness,
Kelley and Roman Allsbrook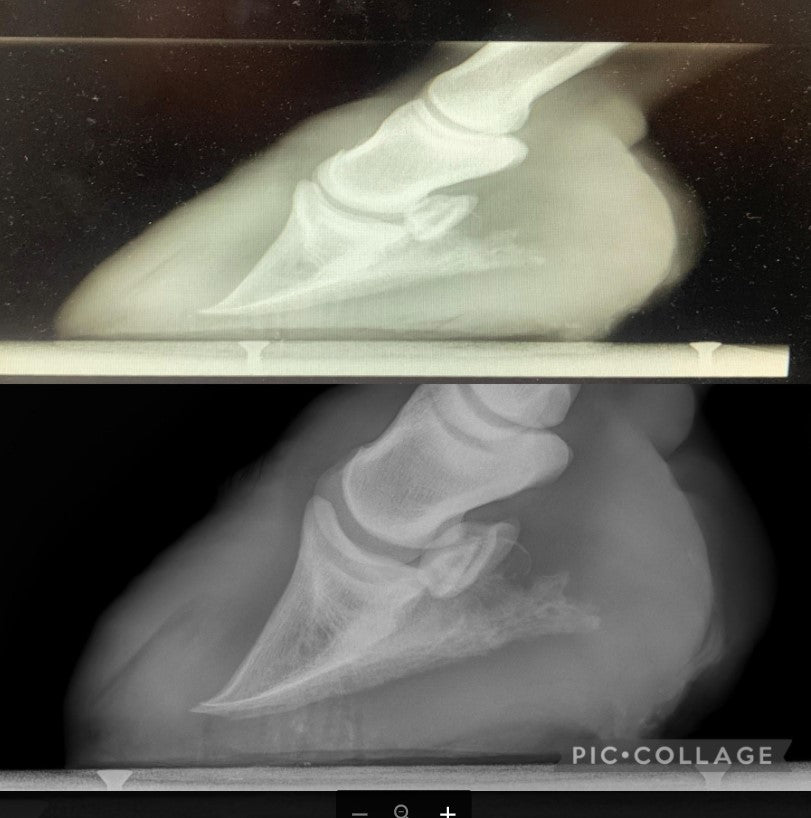 4yr old Andalusian
Just wanted to share this 12 week transformation on Vermont Blend since we acquired this smoky black 4yr old Andalusian. He's on some other stuff too, but this is a HUGE part of the incredible transformation he's made so far. We are ridiculously impressed. Thank you so much for your supplements and dedication to empowering owners to have the knowledge to feed well. ~ Estella Ray
**New Hoof
The photo on the left was six weeks on Vermont Blend. The photo on the right was a few trims later. Whole hoof grew out with only a diet change! ~ Beth, Equibalance Farrier Service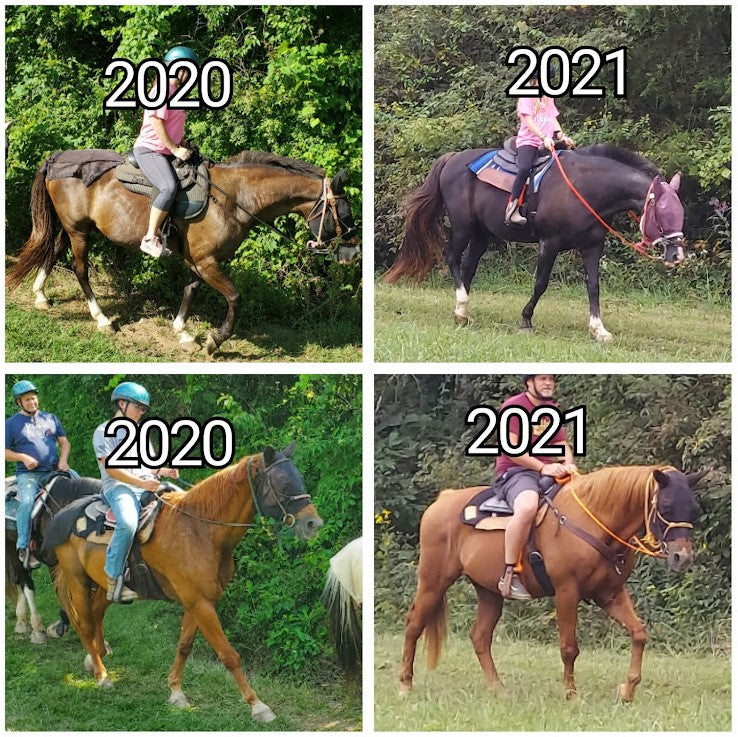 Senior Makeover
Thank you so much for your product! We are a small trail ride operation and we happily prioritize the health and happiness of our horses. Last December we started a few of our horses on your Vermont blend. Several of our horses were away on winter pasture and weren't started on Vermont Blend until late March/early April. The horses in the pictures attached are two that weren't started on Vermont Blend until then. We have also implemented a track system and with that and the Vermont Blend our horses look and feel better than ever! The photos attached are two of our most Senior horses. We were pouring grain into them last year and now they're getting minimal grain and look amazing. Thank you!!!! ~ Lyndsey in Texas
Hoof Growth
I bought the vermont blend pro for my two horses. I started feeding it a few days before my farriers last visit just to get a good idea of how well the product works. The farrier came today and asked what the heck I was feeding my horses. They both were only 5 weeks from the last trim and had tons of hoof growth. Their coats are healthy and shiney too! Super happy with this product! ~ Kellyn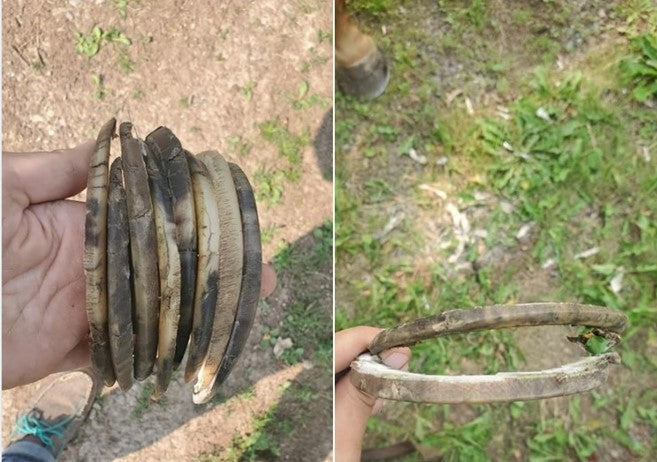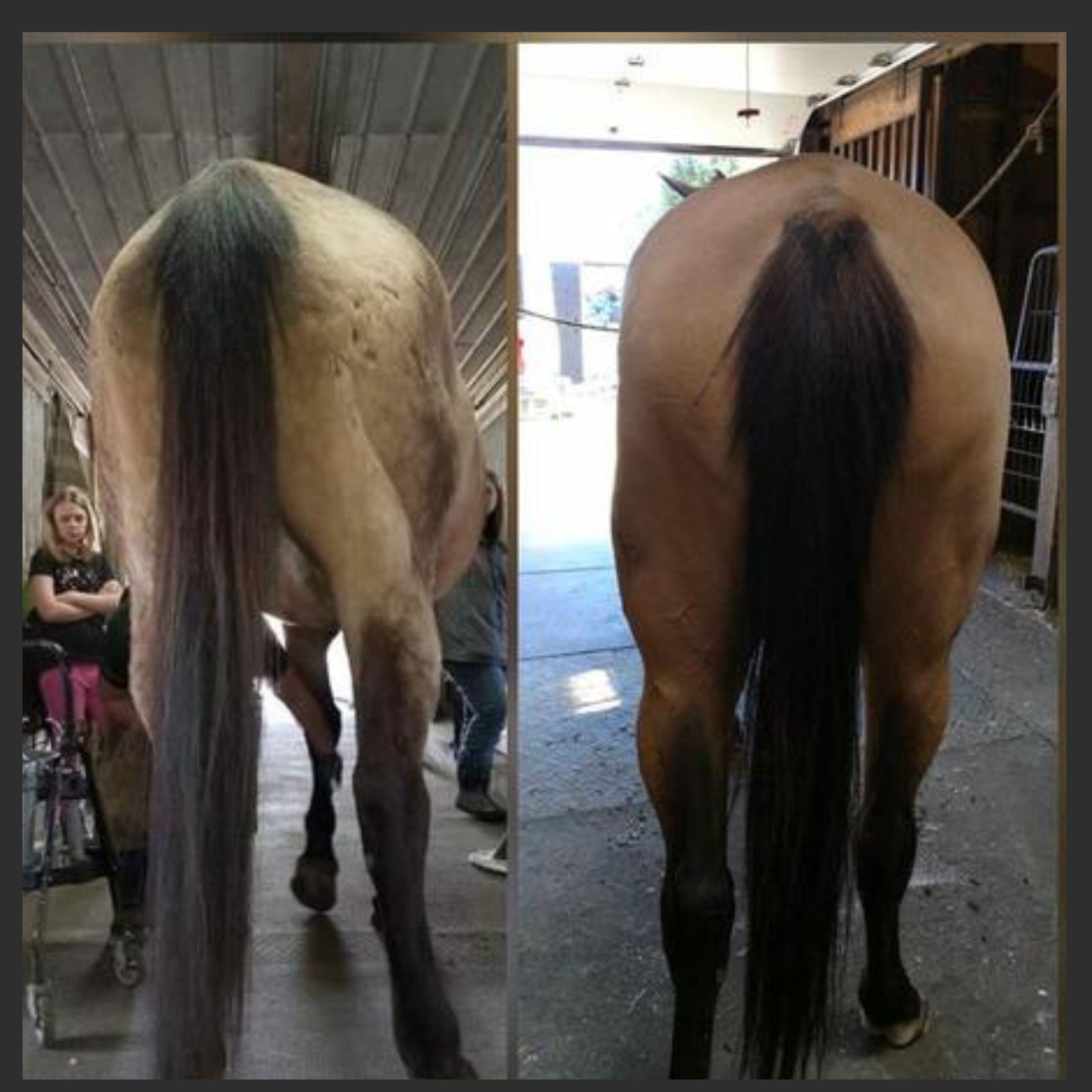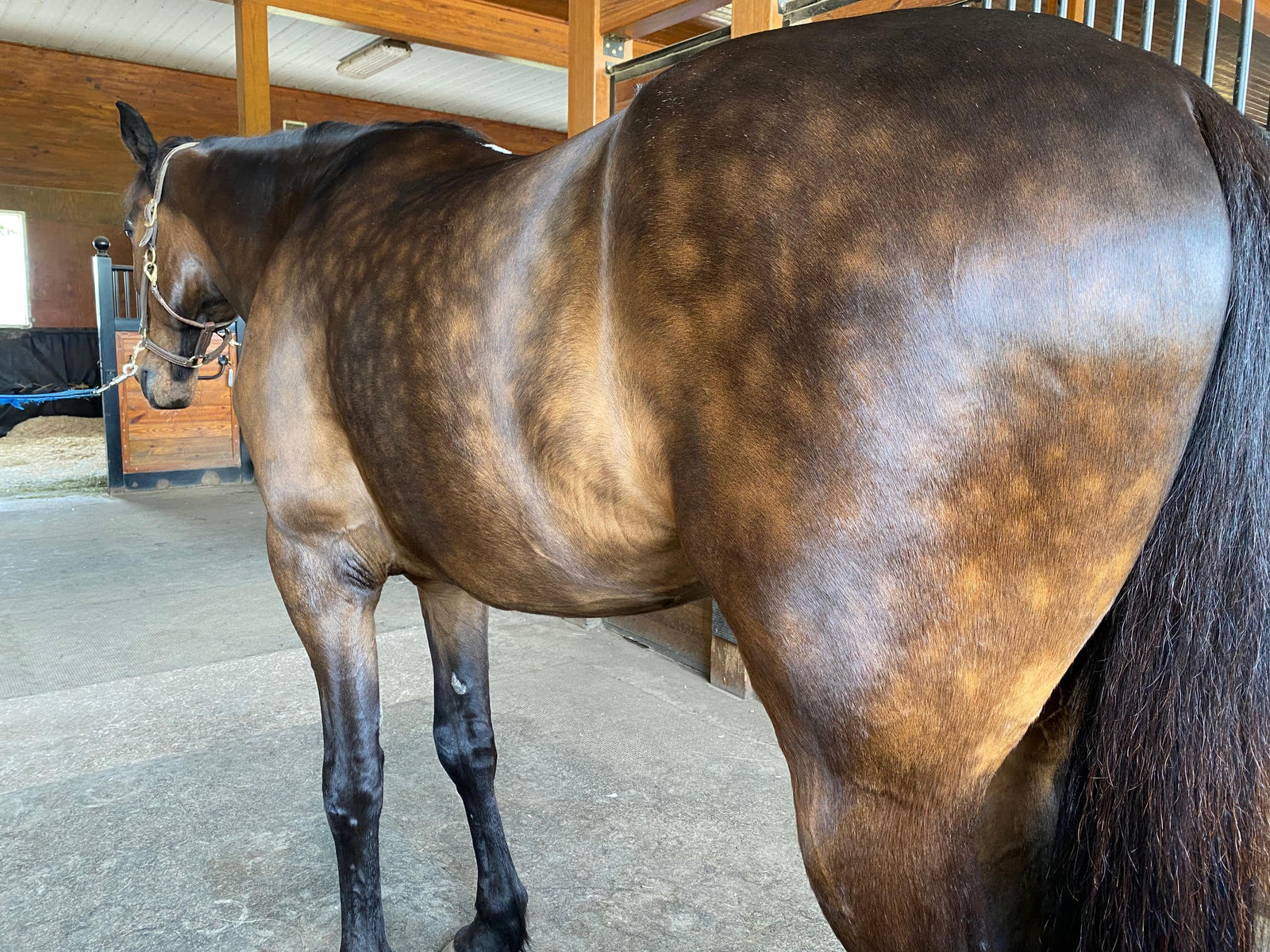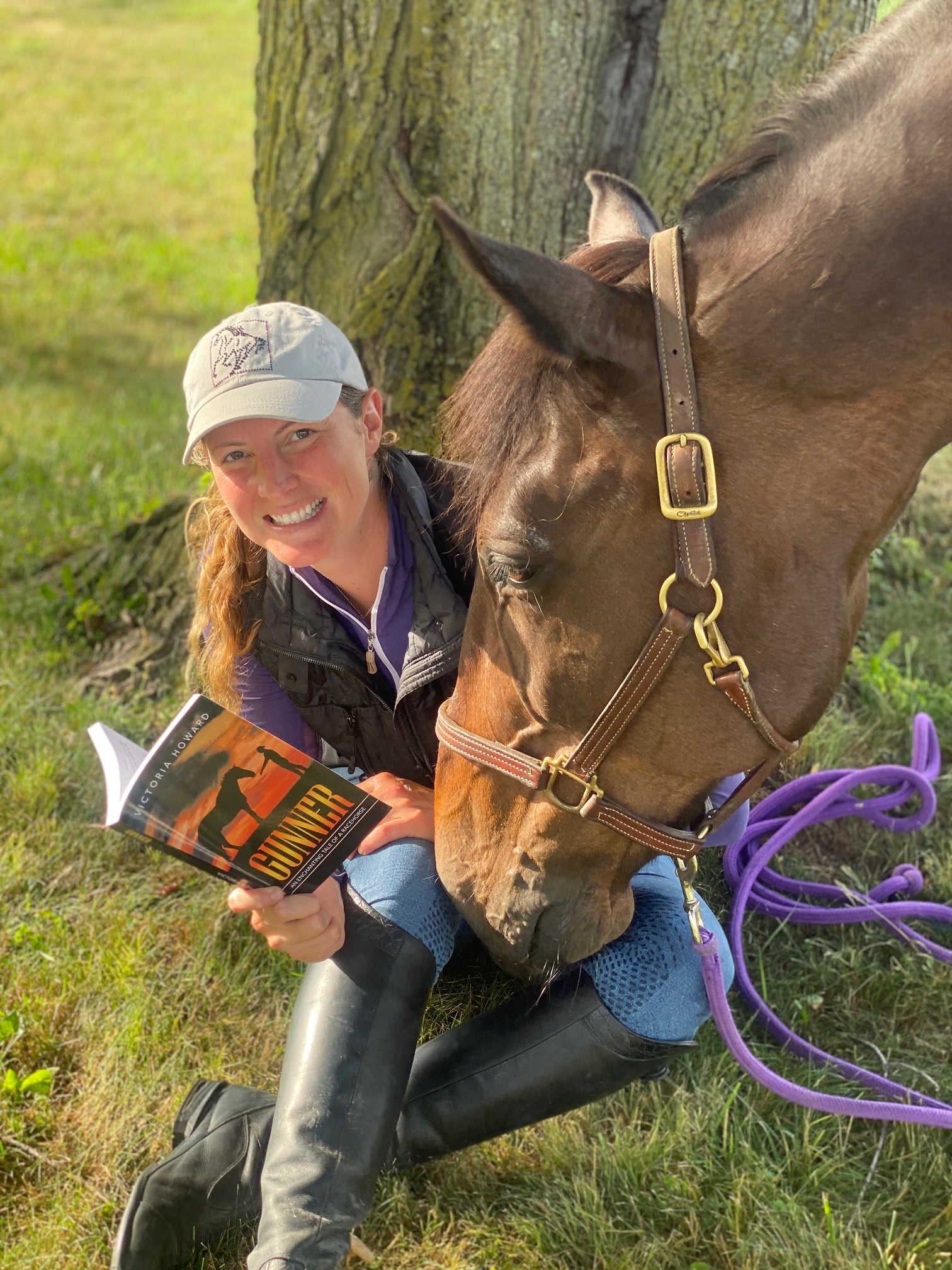 Gunner is a 20 year old Standardbred pacer gelding, was rescued from a kill pen in January 2017. He had raced 105 times and spent 8 years pulling a buggy for the Amish. Upon rescue, his toes were very long with crushed heels that were sitting on the ground. He received corrective shoeing working with the veterinarian and farrier together throughout the next few years where he was sound and able to shine as a part time police horse.
Gunner, although sound and healthy otherwise, always battled white line disease. The white line disease was a mystery as he received top level care and barn management, had a great farrier, and he looked healthy. In early 2020, I took his shoes off and let his bare feet "air out" for several months hoping this would cure his white line along with the sprays, soaks, and topical treatments and sole hardeners I had used for years with little improvement. He then developed sole soreness from being barefoot and some bruising. With his odd-shaped pigeon toes hooves, he was not a candidate for hoof boots so I was forced to retire him from riding and limit him to soft level surfaces. It was sad to have to sideline him from riding as he was so enthusiastic about having a job, he was not pleased to be retired and left out of the activities. 
Meanwhile, I kept hopefully searching for the missing puzzle piece to solve this hoof problem and on a Facebook equine nutrition group, it was mentioned that having high iron levels could cause hoof issues and that balancing the copper and zinc was necessary in this scenario. It was an aha-moment- I have high iron water! The person in the nutrition group recommended an iron-free forage balancer and mentioned Custom Equine Nutrition's Vermont Blend. I ordered it that day for all of my horses and a few weeks went by. (In July 2020) by the next farrier appointment, Gunner had NO SIGNS OF WHITE LINE disease, he had enough growth where he was able to have regular shoes put on (no corrective bars, rollers, or wedges) and he was sound again. Because his hoof growth improved, correction of the natural balance of his hooves was able to be fruitful and this caused his frequent tripping to also diminish.
Gunner is back to work and his feet have never looked better. It's been close to one year since starting Vermont Blend and he has not had a single hoof problem since and he is super shiny as well as covered in dramatic and bright dapples! I have had similar results with many other horses and the most noticeable is the dapples and improved hoof health! I am so thankful that I found Nicole's nutritional products and was able to help my best friend shine with glorious health! 
PS- Gunner is a horse celebrity and his incredible life story is featured in a family friendly book written by Victoria Howard "Gunner, the Enchanting Tale of a Racehorse." Mary Elana Moran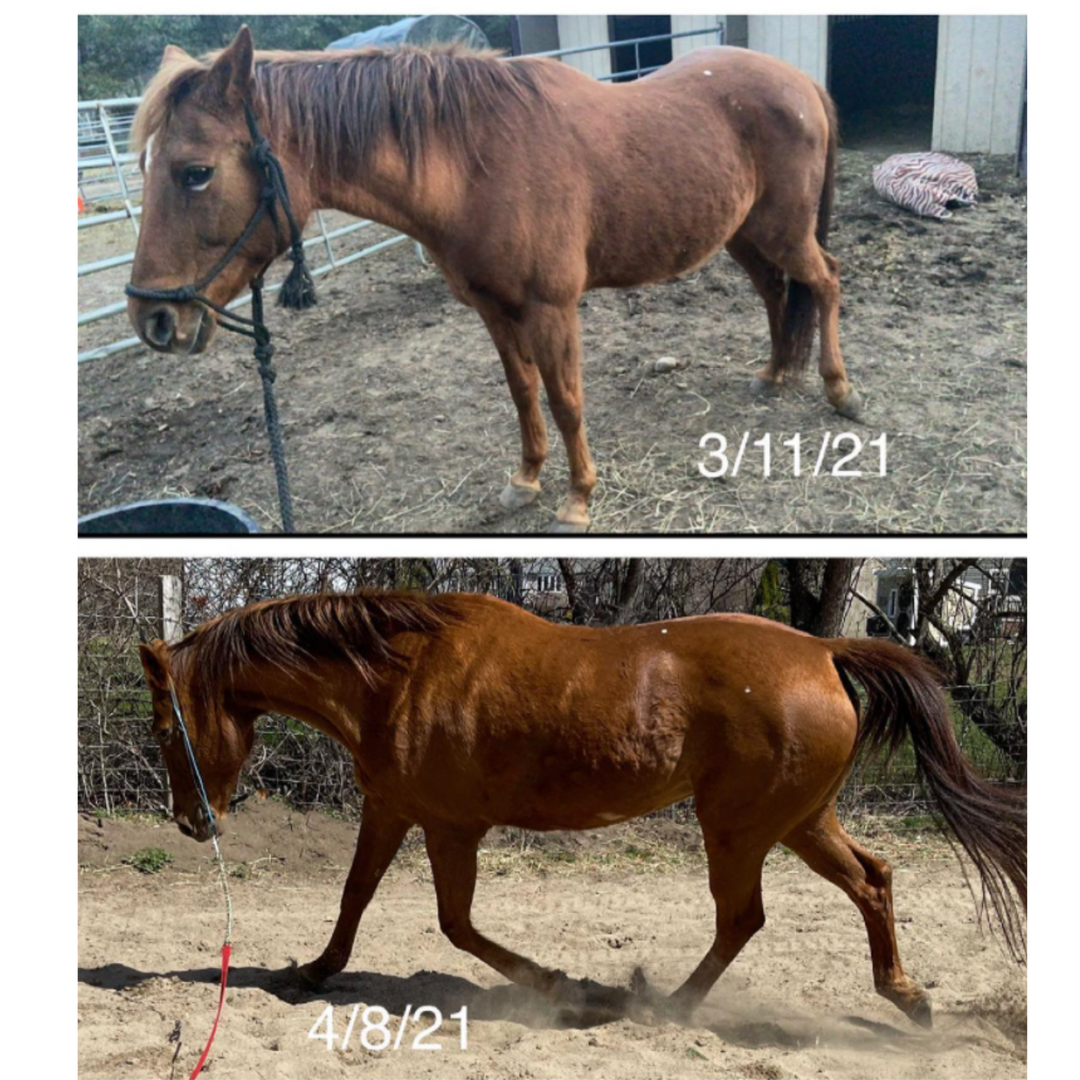 Dreamer
This customer story is about a mare named Dreamer and her diligent and loving owner, Shanna. On March 10th Shanna watched her lovely mare collapse three times. Here is what Shanna's says: "Dreamer is a 20ish year old mare used for barrel racing. Spring is finally here, so after having the winter off, I tacked up Dreamer to have a nice relaxing ride, which turned into a nightmare. After asking for a trot, Dreamer collapsed. Unsure of what was going on, I immediately untacked and lunged her, only for her to collapse again, followed by her continuing to go down in her turnout. I called an emergency vet out who ran blood work and vitamin e levels - only to find out her vitamin E was .4ug/mL! I thought I was going to lose my horse; she was showing neurological issues and declining quick." Shanna's vet administered a Vitamin E injection and a bottle of Emcelle was headed her way. On March 12th Dreamer received 10,000iu of Emcelle Tocopherol Vit E each day. On March 17th Shanna also added Vermont Blend to Dreamer's diet. Within three weeks her Vit E levels went from .4ug/mL (40 ug/dL) to 5.8µg/mL (580 ug/dL). Dreamer is now feeling much better and Shanna has started her other mare; Stella, on Emcelle and Vermont Blend. From Shanna: "First picture of Dreamer, I thought my horse was going to die. Second picture, she's better than she's been in YEARS! All neurological symptoms are gone, her coat is amazing and she's working better than ever! Vermont blend and Emcelle. Best thing I ever did for my horses."
Allie
I don't know where to start, and could easily write an essay, but I won't. My sweet mare, Allie, only 8 years, was diagnosed back in July of 2020 with slightly elevated levels of ACTH, and even higher levels of insulin and leptin. I had been treating her for the IR and Leptin, doing all the suggested recommendations, but felt like I was just holding the line. In the late winter/early spring of 2020 and before Covid, she started to decline. Without going into all the history of what followed, I'd like to say that Nicole was a huge help in obtaining the positive results I am now seeing in my mare. I found Vermont Blend through another website that offers support to horse owners that are dealing with metabolic issues with their horses. Once I contacted Nicole, and provided her with Allie's blood work results, our hay analysis, as well as other information, we were on our way with a nutritional plan that took about 5- 6 weeks to implement. Slow is better when making dietary changes. Along with the Pergolide, and other recommendations, I am mixing in Vermont Blend and Emcelle E to her mash, which she has never balked at.
In mid-December, I started to see an improvement in hers and our other horse's coats; they were like black velvet, so soft and silky. I also noticed that Allie's mane and tail had improved and grown! Her mane and tail were always very slow growing, as well as dry and frizzy looking. Her feet always grew very slowly also, but for the first time I can remember, she actually needed a trim this winter. Her latest blood work shows normal levels of ACTH, with a big drop in her insulin and leptin levels, so I am so very pleased that we are on the right path. While the Pergolide for the PPID is a contributing factor, the balanced nutritional plan using Vermont Blend can take the credit for the rest of the positive changes. I know this will be a continuing commitment, but I have my sweet mare back, meeting me at the gate every morning, instead of hanging back near the barn with her head hanging down, looking depressed, and much older than her years. I can't thank Nicole enough. ~ Marguerite, West Virginia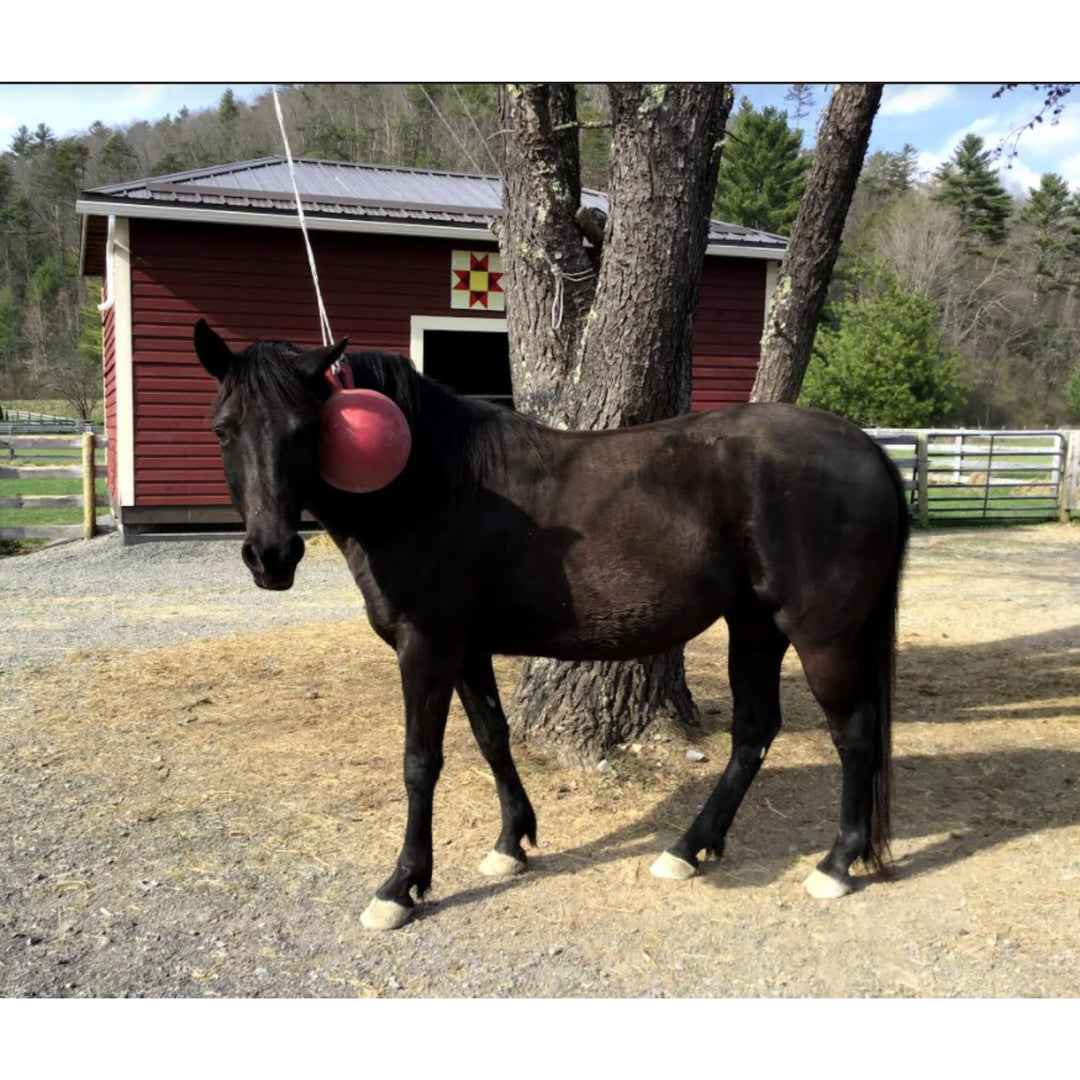 Geym's Galahad
Our 20-year-old Arabian gelding, Geym's Galahad was diagnosed with DSLD and was in considerable pain. It was suggested to keep him on Vioxx. I did some research in a desperate attempt to help him be comfortable and—although I know the DSLD won't go away—your Vermont Blend + Omega E had most of the supplements needed for support. Within a few weeks, he was a completely different horse, trotting and cantering in the pasture. We weaned him off of the Vioxx, ready to put him back on at the first sign of discomfort. We haven't had to use any for over three months. It's such a relief to see him enjoying the pasture with a happy face. ~ Wendy, Vermont
Note from Custom Equine Nutrition: Testimonial is not saying supplements can fix DSLD.  However, being on a balanced diet can certainly make a horse feel much better overall.
Mack
I am so incredibly grateful to Nicole!  My splendid 27 year old Morgan was losing weight and had begun to suffer from chronic, messy diarrhea.  We were at our wits end. Nicole came to the barn, did a very thorough evaluation of my buddy, and recommended a complete diet for him that he could easily digest and that had all the nutrition his aging body needed.  Within weeks, the diarrhea stopped (what a blessing that was for both of us!), and he began to put on weight.   Now, over a year later, he enthusiastically drinks down what we call his 'Nicole Smoothie' morning and evening, is maintaining his weight with no diarrhea, and his coat looks great.   Nicole has been a complete gem.  She has always been available to answer questions, explain 'why' as well as 'what', and help us make sure that Mack stays a happy camper.   Thanks Nicole!!! ~ Marcy in Colchester VT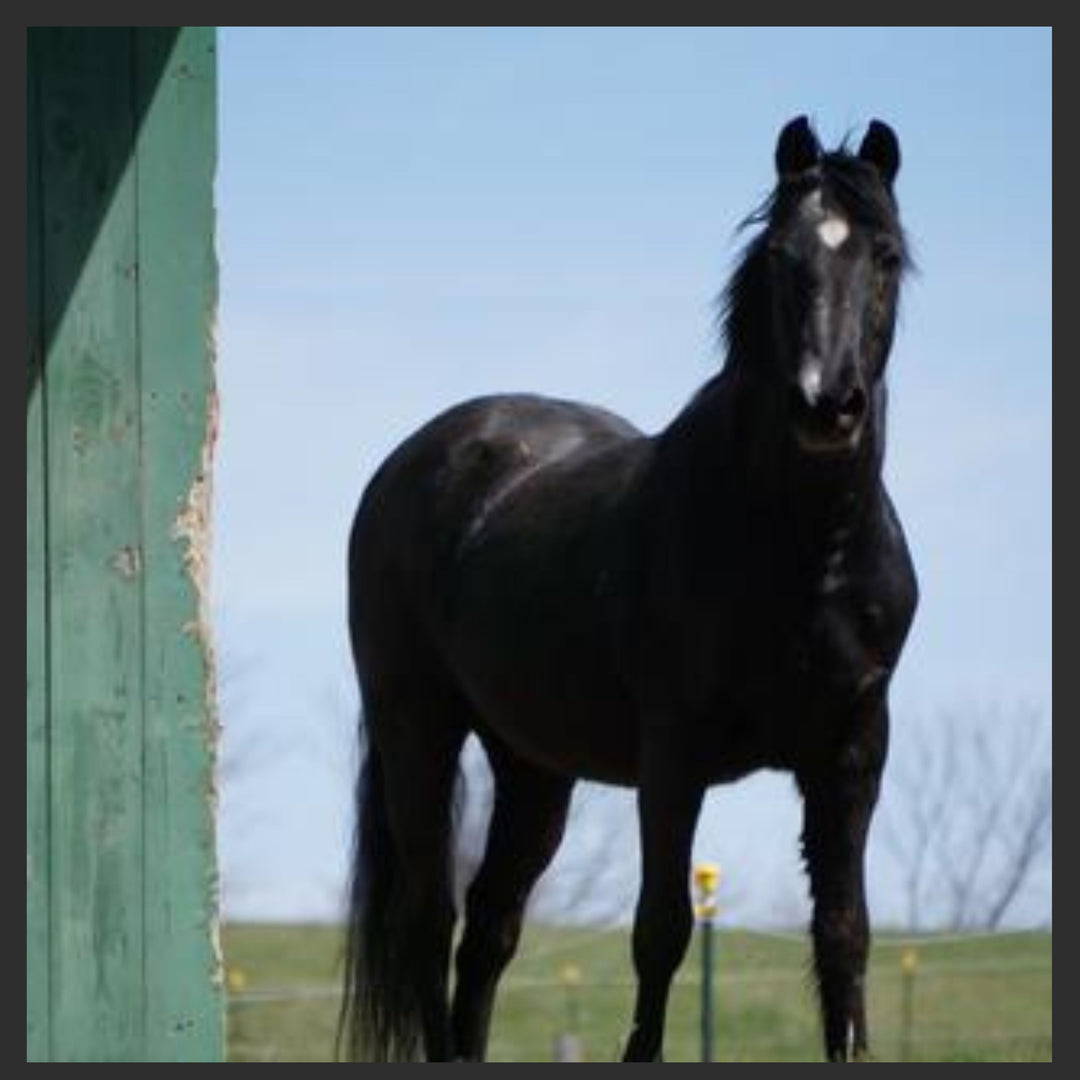 Magic
"Hi Nicole, I worked with you about 1 month ago to improve nutrition for my 34 year old Appaloosa Magic who I have had for 20 of those years. Yesterday he was enjoying the sunshine and fresh green grass outside of the pasture as a short treat.
Several folks have commented on how improved he looks over the past weeks. Thank you for sharing your expertise with me. I am very happy he is going into winter a bit pudgy! Giving thanks, Lydia "
Ellie
"I am so excited to share these results!! In March of this year I made a few changes to my feed protocol and started my horses on a supplement called VT Blend by Custom Equine Nutrition. Ellie has never looked this good or had so many dapples! And my scrawny 3yr old colt I bought this winter has turned into a little beefcake."  ~ Kerri Frazier, MA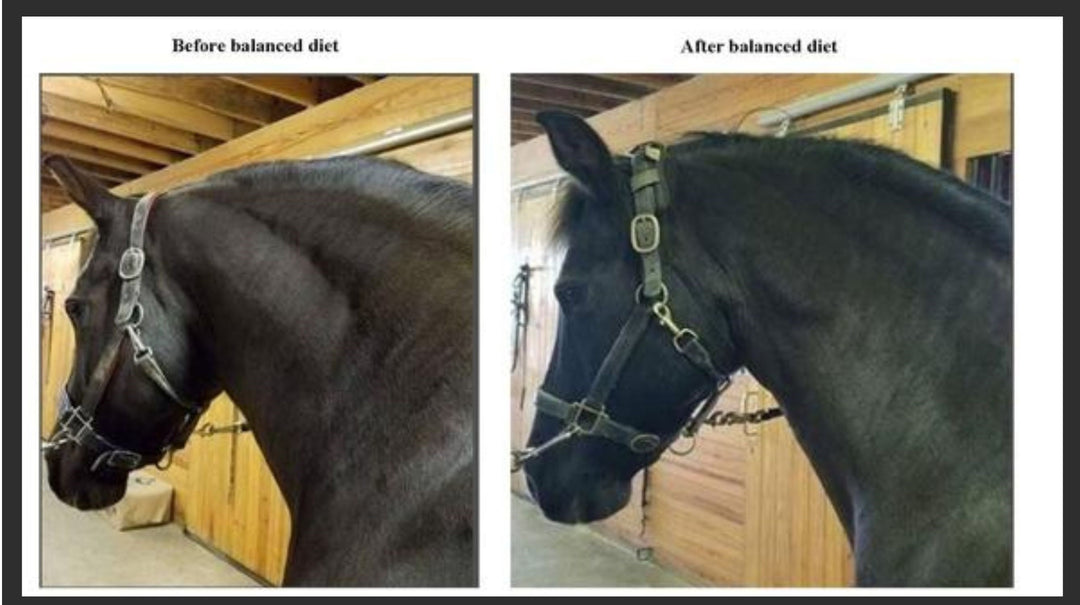 Ernie
"I can not say enough good things about Nicole. I've always been on top of my boy's nutrition due to him having some very odd allergies, cushings, and insulin issues. My vet mentioned Nicole and what her services were. I reached out to her and she literally emailed me back and forth for a couple days before I even decided if I was interested in her services. I wanted to make sure I wasn't spending money on things I already knew. To say I was impressed is an understatement! Not only is she thorough with each horse's individual needs but she's truly compassionate about what she does. The amount of time she puts in for each horse compared to what she charges is over-the-top impressive. I'm so glad to have her knowledge available to us. I highly recommend her services!" ~ Stephanie Shelburne VT